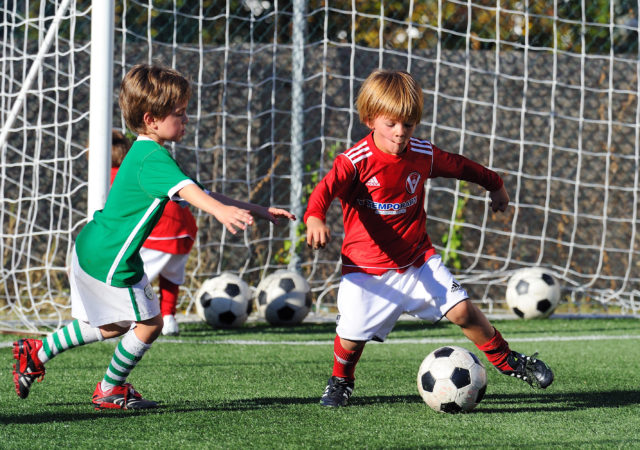 Is victory the most instinctive impulse a person can feel in the sport?
Well yes, not doubt that winning is a tremendous incentive and motivator for every participant in sports events, but I still think there is something more important at young age – having fun playing and at the same time mastering a football alphabet. For every coach who trains kids from eight to ten years of age the easiest way to secure victory would be to select the team from the most powerful and strongest children. But I am asking you what will happen when the strength and height of children will no longer be crucial to winning? How many talented children will change or leave the sport because of such a coach's approach? Just because they were tiny in that moment.
Did you know that today,one of the best midfielders in the world Luka Modrić was eliminated by the Croatian trophy club Hajduk, Split, because he was too small and too skinny for playing football?
Luckily for the sports fans, thanks to his perseverance, to his parents who did not interfere and to his perfect handling of the ball, Luka Modric has become the key player of Real Madrid. He is a perfect example of how the effort of the child, no matter younger or older, on the painstaking work on adopting technical details pays out later only.
Unfortunately, the misguided ambition of most parents is being passed on to children who do not enjoy the game because of this, are less advancing and often give up football.
Under the pressure of parents and club's (school's) officials, some of the coaches subjugate everything to the outcome. I know, if you are not focused on the result solely, spending most of the time with the kids actually enjoying the  game and at the same time adopting the technical skills, it will happen  that teams that are technically modest but physically stronger will win. It's a process you just can not skip. The primary goal of working with younger children is to play and develop football skills rather than a competitive one.
Coaching technical details with children is a tough job, but results are therefore multifaceted. The absorption of coach's technical instructions is an effort for small children's heads, and requires their full concentration. Some research has shown that a children in sports dedicate about 3/4 of  attention to the accuracy of their technical performance. Which is also logical, because it is only teaching phase and it is far from the stage of automatism. Unlike a child, a technically trained senior uses only 5 percent of attention for a tehnical performance, while the rest is used for observation and involvement in the game, as well as tactical details.
And finally, there is no success without parental collaboration and support. Knowing parents and communicating with them is very important for the child's football development. Each parent wants his child to be the best, but has to be explained and has to understand that the results of the technical training will come with time. I know it's easier to write than to do because there are parents who do not understand the sport, and even after the first lost game they change the sport and the club (school). It's hard to explain to coaches who do not have feeling for it that a group of 10-year-old is not a battlefield and that the score does not make them better coach. Their result should be child's football and life achievement later at senior age.