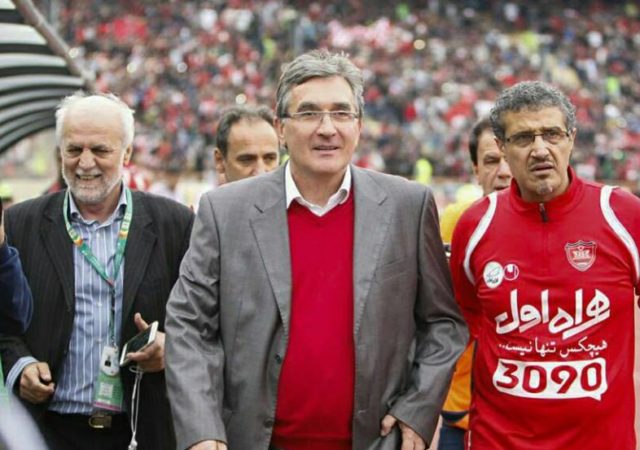 Branko Ivanković certainly deserves the title of one of the most successful Croatian football trainers. Starting in Varteks from his home town Varaždin, he continued his journey all the way to the most successful and well known club in Iran with over 40 million fans – FC Persepolis. With Branko as the head of Persepolis the club got to untouchable first place on the chart full three rounds before the end of the championship and is playing Asian Championship League – AFC Champions League. We met with Branko during his short vacation in Varaždin and talked about his coaching success, Zdravko Mamić, Croatian national team and his return to his homeland…
You started your career in Varteks in Varaždin. What did the beginings of your career look like?
"I started in Varteks as a player. In high school I was both player and I began coaching. This was how I started earning money and how I later paid for university – through playing football and coaching junior league in Varteks. At the time Varteks was one of the best organized clubs, and this was the first club I coached on my own after I finished university. After Varteks I worked with few other local clubs like Mlado sin Biškupec, Trnovec and then I came back to Varteks."
While in Varteks you started working with big football names.
Yes, at the time, Varteks had players that later became a part of Croatian "dream team" which won bronze medal in France. I worked with Mrmić, Mumlek, Toplak, Gregurić, Balajić… Varteks was always full of high quality players and Varteks football school was well known and respected.
Your career didn't stop in Varteks. Soon you were recognized internationally and you had some impressive records worldwide. Tell us a bit about your travel to the East.
After Varteks I went to Segesta and then to Rijeka and after that to Hannover in Germany. At the same time, I started working as a coach for the Croatian national team. I was lucky to work with skillful players and colleagues, this was the generation that won bronze in France! After this I went to Iran for the first time with Miroslav Ćiro Blažević where I later became the head of the national team of Iran and we accomplished the best results of this country in the last 30 years and we made it to the World championship.
Still, after Iran you decided to come back to Croatia where you accomplished another considerable success with Dinamo. On the way to the world record you were stopped by your first club, Varteks, is that right?
"Ha-ha, yes, Varteks stopped us, that is right. When I came back from Iran I started coaching Dinamo and we won championship and the cup. In the championship we won 93% of all points and we had 28 victories in a row while the world record is held by Benfica with 29 victories and we would have tied with them if we hadn't lost against Varteks."
You came back to Dinamo three times, two times you left with impressive results but the third time you stayed for only 45 days. This is not like the rest of your career. What happened?
"It was a pleasure to come to Dinamo every time. Two times I left on my own even though press always said I was fired because I didn't get along with Zdravko Mamić. Third time my departure from Dinamo was quite specific. I was a coach for 15 days and we had a game every three days. I think no coach in this world could change anything under these conditions in such brief time. I am sorry that i turned out this way because this stay in Dinamo caused great damage to my business. I was damaged morally and financially and this stayed one big unnecessary smudge in my resume. There are "higher" reasons for this, but unfortunately I couldn't influence them at all. I am really sorry it ended this way but I rarely look back and remember bad things, I focus more on what's ahead of me!"
But this didn't stop you to travel to the East again and score few more impressive accomplishments?
"After Dinamo, I went to China to Shandong Luneng where I won the China championship with 13 points ahead of the second club on the chart. From China I went to Saudi Arabia in Al Ettifaq and we made it to the final round of championship and we qualified for Asian Champions League. Besides in Saudi Arabia, I worked as a coach in the UAE in Al Wahda and after that I went to Iran where I am still a coach in FC Persepolis in Teheran. Regarding awards, I am currently the only Croatian coach that won the coach of the year and person of the year in three different countries – Saudi Arabia, Croatia and China and I am also the only Croatian coach that took foreign national team to the World championship.
You are currently on the top of the chart with Persepolis, the championship is mathematically certain, and you are also playing in the AFC Champions League.
"Three rounds before the end we are first on the chart and we have secured the title. This will be the third country in which I have won the championship. Out of all Croatian coaches, only mr. Ivić was more successful as a coach since he won the title in four countries but this was thirty years ago. Considering I am still a lot younger, I still have time to reach my fourth title.
 With all those great results in your career, you were never the coach of the Croatian national team.
"Unfortunately, that is true. I was never the head coach of the Croatian national team because I was never a part of any circle (even though media constantly connected me with Zdravko Mamić because of Dinamo). I wasn't a part of the journalist's circle, or Zagreb or Split circle. I was especially disappointed that I wasn't supported by a small group of colleagues that I grew up with in Varaždin. Croatian usually has a twisted system of values and that applies to soccer as well. This is why it happens that a player that only yesterday stopped playing and has zero experience in coaching starts coaching national team. Only in Croatia can a trainer that hadn't even worked in the third league started learning his job in the national team. But as I said before, this is behind me and I am always looking forward.
We can often read that they call you football professor but there is one interesting thing that can rarely be seen in media, you are currently the most educated football trainers in the world that is still working.
"This nickname kind of stuck for a while but yes, this is not just a nickname. I have a diploma from Faculty of Kinesiology, University of Zagreb, majoring in sports kinesiology which gave me the title "professor"and few years ago i have gotten my masters in the field of football so this makes me the most educated trainer that currently works in football in the first league, as far as I know.
You have worked with numerous clubs in Croatia and around the world, with Croatian and foreign national teams, you won titles, awards. Out of all of this, which is your favorite sports accomplishment?
"You always get attached to a team and each accomplishment is important because you have all put in a lot of work and effort in it, but the feeling of wining bronze at the World championship is certainly special. No one expected that but we were optimistic and we wanted to show the world Croatia after the war. But still, no one expected such good result. Players were amazing, best! This is the feeling you never forget.
Could you name some of your favorite players you worked with?
"This question is maybe the hardest one. I have worked with some of the top players. I have mentioned some before. Definitely worth mentioning are national team players like Ladić, with whom I have played together, I was his captain and later coach. Then there is Mrmić, Mumlek, Vugrinec, Jarni, Šuker, Boban, Bokšić, Šimić, Modrić, Ćorluka, Eduardo, Mandžukić but also some foreign names like Ali Daeija, Taremija, Souroush Rafie, Kamala, Karima Begheri… Each club I have worked with I had amazing players which were giving their best to accomplish results and careers.
Are you planning on coming back to Croatia? Maybe some other local club?
!I have planned to come back to Croatia in the next few years but almost definitely not as a coach. I still have a contract in Iran and there are already several great offers for some other positions. I am constantly connected by business to Croatia because of my TTS Sport center, but when it comes to my coaching career, I think I will finish it outside of Croatia. I would later like to use my knowledge and experience to help my NK Varaždin."
Source: http://brankoivankovic.com