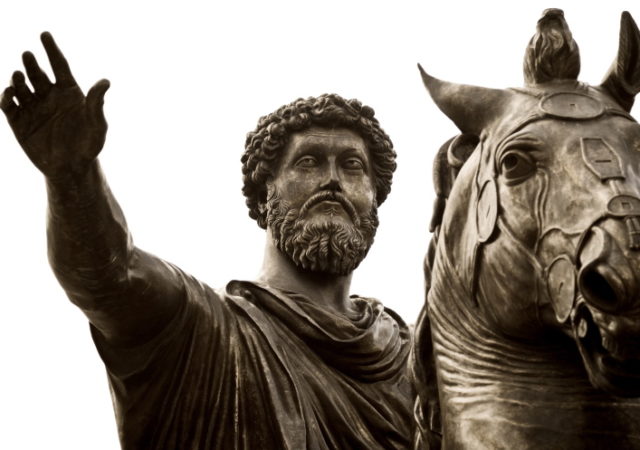 They can learn a lot from the Roman emperor Marcus Aurelius. Read the text and find out yourself whether I was right or not!
Read the text and find out yourself whether I was right or not!
Marcus Aurelius was a Roman Emperor from 161 to 180 AD. For the first 8 years of his rule he was co-emperor with Lucius Verus. He would be remembered as an influential stoic philosopher as well as a formidable emperor. This interesting combination of philosopher and leader made Marcus Aurelius a memorable historical figure.
In addition to being a loved emperor, Marcus made contributions to the study of stoic philosophy. The Meditations is a series of essays written by the emperor himself; it recounts several periods in his life and examines the nature of stoic philosophy. Marcus Aurelius promotes the idea that all things come from nature and so all things must one day return to nature.
The writings promote the idea of finding a 'cosmic knowledge', a way of accepting the universe and finding virtue as the true purpose of life. It is interesting that Marcus Aurelius would be so drawn to stoicism. As emperor he could have been given any earthly treasure he desired. He instead confined himself to humility, duty and a pursuit of virtue. A man who was granted power, he was never consumed by it. A man of blameless character and humble attitude, he is often remembered as a good man and a wise leader.
"You have power over your mind – not outside events. Realize this, and you will find strength."
― Marcus Aurelius, Meditations
"The happiness of your life depends upon the quality of your thoughts."
― Marcus Aurelius, Meditations
"Everything we hear is an opinion, not a fact. Everything we see is a perspective, not the truth."
― Marcus Aurelius, Meditations
"Waste no more time arguing about what a good man should be. Be one."
― Marcus Aurelius, Meditations
"Accept the things to which fate binds you, and love the people with whom fate brings you together, but do so with all your heart."
― Marcus Aurelius, Meditations
"When you arise in the morning think of what a privilege it is to be alive, to think, to enjoy, to love …"
― Marcus Aurelius, Meditations
"The best revenge is to be unlike him who performed the injury."
― Marcus Aurelius, Meditations
"If you are distressed by anything external, the pain is not due to the thing itself, but to your estimate of it; and this you have the power to revoke at any moment."
― Marcus Aurelius, Meditations
"Our life is what our thoughts make it."
― Marcus Aurelius, Meditations
"It is not death that a man should fear, but he should fear never beginning to live."
― Marcus Aurelius, Meditations
"The soul becomes dyed with the colour of its thoughts."
― Marcus Aurelius, Meditations
"If it is not right do not do it; if it is not true do not say it."
― Marcus Aurelius, Meditations
"Very little is needed to make a happy life; it is all within yourself in your way of thinking."
― Marcus Aurelius, Meditations
"The object of life is not to be on the side of the majority, but to escape finding oneself in the ranks of the insane."
― Marcus Aurelius, Meditations
"Never let the future disturb you. You will meet it, if you have to, with the same weapons of reason which today arm you against the present."
― Marcus Aurelius, Meditations
"I have often wondered how it is that every man loves himself more than all the rest of men, but yet sets less value on his own opinion of himself than on the opinion of others."
― Marcus Aurelius, Meditations
"Whenever you are about to find fault with someone, ask yourself the following question: What fault of mine most nearly resembles the one I am about to criticize?"
― Marcus Aurelius, Meditations
"When another blames you or hates you, or people voice similar criticisms, go to their souls, penetrate inside and see what sort of people they are. You will realize that there is no need to be racked with anxiety that they should hold any particular opinion about you."
― Marcus Aurelius, Meditations
"How much more grievous are the consequences of anger than the causes of it."
― Marcus Aurelius, Meditations
"The first rule is to keep an untroubled spirit. The second is to look things in the face and know them for what they are."
― Marcus Aurelius, Meditations
Source: https://classicalwisdom.com