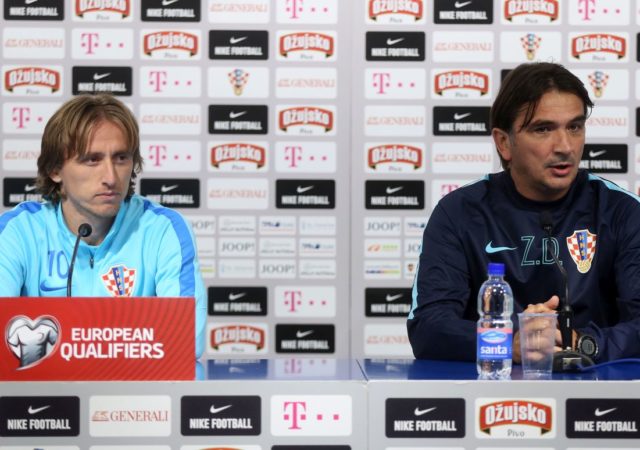 I am very proud of my former club's colleague, Zlatko Dalić who will manage the Croatian National team at the 2018 FIFa World Cup in Russia.
Part of his experience can be read in my new book – " The successful coach: The choice is yours, Maxi !"
© AFP
(FIFA) 13.november 2017.
"Failure was not an option."
These were the words of Croatia coach Zlatko Dalic after last night's FIFA World Cup play-off triumph, and they applied both to his team and to him personally.
Dalic, after all, was appointed last month on a short-term basis, first to steer Croatia through a vital group qualifier in Ukraine and then to oversee the play-off against Greece. Asked then if the new man would be a permanent replacement for the sacked Ante Cacic, HNS president Davor Suker was non-committal. "Coaches live by their results," he said. "We will see what happens."
Dalic embraced the short-term opportunity though, and was positive from the outset. "I know it's a big pressure, but I will stay calm," he said ahead of the play-off. "I feel beautiful, because I'm coach of my national team – one of the best national teams in the world."
The 51-year-old former Al Ain coach's faith, both in himself and in his team, was of course vindicated by a 2-0 win in Ukraine and a resounding 4-1 aggregate triumph over the Greeks. Those results seem certain to lead to a longer-term contract being signed, with Luka Modric making plain the opinion of Croatia's players.
"It would be crazy if Dalic wasn't the coach [for the World Cup]," the Real Madrid midfielder said after last night's 0-0 draw in Greece secured their place at Russia 2018. "He has done a phenomenal job."
"This qualification is also as much down to the previous coach and comes as a result of his work. We are a very good team and failure to qualify for the World Cup was not an option.
"I congratulate my players. It was a great game tonight, full of tension, and we've achieved what we had set out to do and are going to Russia.
"We played a truly awesome game in Zagreb in the first leg; tonight it was much harder. But it was never important for me who would be our opponents in this play-off, because I was convinced that we would win whoever we played against."
With players such as Modric, Ivan Rakitic, Mario Mandzukic and Ivan Perisic at his disposal, Dalic's confidence was understandable. But it is worth remembering that Croatia had picked up just four points from as many games prior to his appointment, with defeats in Iceland and Turkey and a draw at home to Finland having cost them automatic qualification.
The Croatians are, though, play-off specialists. By seeing off Greece, they have now prevailed in all five of their play-offs for major tournaments, having previously reached the 1998 and 2014 FIFA World Cups, and the UEFA European Championships of 2004 and 2012, by this means.
As Modric said: "The qualifiers were hard, but we are where we belong. We maybe didn't play at the level we know tonight, but the result is most important. We were lacking energy and concentration, but we all fought as one."
Source:http://www.fifa.com