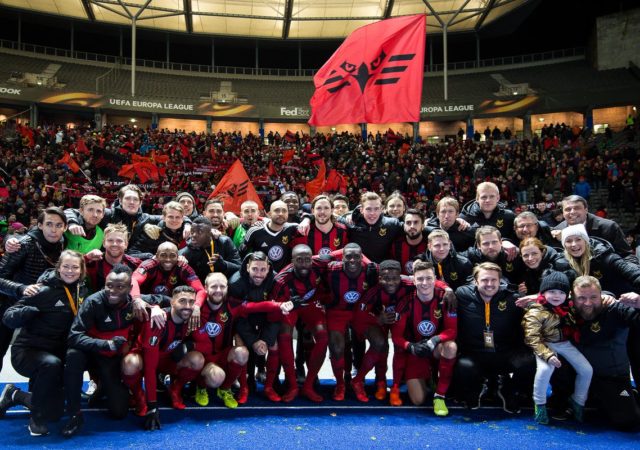 The success of a club (no matter whether it is school, amateur or professional one) depends not only on whether you have good players and coaches, but also on the climate and communication culture that exists in the club. If all of the mentioned factors are joined in an integrated partnership – the club's success can not be failed.

The success of the small club Ostersunds FK from the eastern Swedish town of 50K inhabitants is a perfect example. Apart from being at the top of the table in the national league, the club is also thriving in the prestigious UEFA Europa League. In his group, the club won second place, and faught through to the next round of spring competition.

I recommend you to read the article below which was dedicated to this small club by the well known espn.co.uk.  It will assure you that "nevertheless" it is not all about money.
Source:   Nick Names ; www.espn.co.uk
Ostersunds FK, the tiny Swedish team that believe they can rule Europe
OSTERSUND, Sweden
"Eljest" is an archaic word known to few beyond Sweden's remote, sparsely populated north. It describes someone who is strange, a little different and eccentric; it's the word that Daniel Kindberg and the rest of his Ostersunds FK board settled upon when they sat down in the autumn of 2010 to discuss how they could revive a tiny football club that, having sunk to the fourth division, was on its knees.
"We had to analyse what we wanted, what football we needed to play, what we should be, who we should be and why," the Swedish club's chairman said. "We decided this was what we were going for, and the rest is history."
Two hours in Kindberg's company leave the head spinning, but nothing on this late summer afternoon inside the Jamtkraft Arena, a compact stadium nestled on the fringe of a dense forest, feels at all ordinary. Out on the pitch, the team train while one of the stands behind them visibly grows in seating capacity over the course of the session. The work is unstinting, but it has to be: Ostersunds are now preparing for the Europa League group stage, and when they visit Zorya Luhansk on Thursday, they will make a fresh leap in a football journey that has few parallels across the continent.
There would be no tale to tell without the extraordinary figure of Kindberg, a former army battalion commander and lieutenant colonel who served in Bosnia, Democratic Republic of the Congo and other troubled states during the 1990s and early 2000s. He was deployed to the barracks at Ostersund, nearly 300 miles northwest of Stockholm, in 2004 but moved into real estate when they closed down the following year.
"Nobody is shooting at you, so the business world is very easy," he said. He joined the board of Ostersunds, who were founded in 1996 and held ambitions of competing in Sweden's top two divisions, shortly afterward, but succeeding in football was not as straightforward as building homes. In 2010, after Ostersunds' relegation to the wastelands of the fourth tier, Kindberg quit.
"I didn't like the negativity and the way we were fighting about stupid things," he said. "It was the normal thing in football: white, heterosexual, powerful men arguing and blaming each other for this and that. I'd had enough, so I left.
"Then one day, I was at home, and I had a knock on the door. The players told me they wanted me back. Otherwise, they would all quit, too. I took a couple of days to think about it. As a military officer and businessman, you don't make decisions based on feelings, but in football, you're a kid again, and I took the emotional decision to come back. We had almost nothing: a couple of players, a stadium, one half-time employee and an annual turnover of €300,000. We started all over again."
One of the things Kindberg needed was a coach. He picked up the phone and called a young Englishman whom he'd been trying to entice to Sweden over the previous 15 months. Graham Potter had been studying for a master's degree at Leeds Metropolitan University, with the impending birth of his first child further complicating a move abroad. Now, though, Potter was ready.
"He's not only a football coach. He's probably one of the best men I've ever met in my life." Brwa Nouri is talking about his manager, the man who saw enough in him to make him captain of Ostersunds FK. Nouri's eyes mist up just a little at times during the conversation; his football career (along with his self-esteem) had fallen a long way before a meeting with Potter at Stockholm's central station changed everything. Nouri had been an exceptional prospect at AIK after moving from Iraqi Kurdistan with his mother as a child, but money and bright lights had led him astray.
"I got in with bad people, into bad situations, stayed out late and did that for quite a few years," he says. "Eventually the club kicked me out and ripped up my contract. I'd burned my bridges, and my name was black."
Fortunately Dalkurd, a lower-league club founded by Kurdish immigrants, took him in before Potter, seeing a player who could improve a team that had risen rapidly to the second-tier Superettan, completed the turnaround in 2014.
"[Potter] is so emotionally intelligent in his way of interacting [with] people, making you welcome and developing you," Nouri said. "He is skillful in so many areas. You have to experience him yourself, but for me, he's incredible. And I feel so grateful. After what I've been through, how far down I'd been, I never thought I'd be able to achieve anything like this. It's hardly fair to put it into words."
The crowning moment in Nouri's journey with Potter appeared to have come in April, when he skippered them to a 4-1 Swedish Cup final win over Norrkoping toward the end of Ostersunds' first season in the Swedish top flight. That result brought them European football; what happened next caused shockwaves across the continent as, in this summer's second qualifying round, they stunned Galatasaray 3-1 on aggregate.
Ostersunds won 2-0 at home and incredibly held the Turkish side to a 1-1 draw in Istanbul, with Nouri blocking out everything around him to convert a crucial second-half penalty. Wins over Luxembourg side Fola Esch and PAOK (the latter after losing 3-1 away in the first leg) completed the team from the forest's journey out of nowhere to ties with Zorya, Hertha Berlin and Athletic Bilbao.
"They laughed at Graham for having his vision," Nouri says of Potter. "But each year, people started believing, believing and believing a little more. Now nobody can say s—."
Potter is more circumspect over lunch at the wood-panelled local restaurant where, rain or shine, Ostersunds' players and staff dine after training.
"Whatever I do in the future, if I do half as well as I've done here, I think my employers will probably be quite happy," he said. "When you look at a few promotions, a major trophy and into the Europa League, all from [starting in] the fourth tier … I never normally think about it, but when you do zoom out, you think, 'Yeah, it's quite good.'"
Potter has built Ostersunds' squad by giving second chances to players such as Nouri and by putting faith in others who were in danger of falling through football's cracks. Potter himself could easily have gone unnoticed had Graeme Jones, long-time assistant to Roberto Martinez, not been a mutual friend of him and Kindberg. Swansea had visited Ostersunds in previous preseasons, even opening their Jamtkraft Arena in 2007, and the chairman quickly became attached to their style of play. It was Jones who first connected Kindberg with Potter and ultimately gave him a chance he would not have received at home.
"The opportunities in English football were limited, so I thought, 'Why not give it a go?'" Potter says. "The club was probably at its lowest point, there was an overriding negativity, and the people in the town didn't really like it, but this was a chance to start fresh. Daniel [Kindberg] has enabled us to create something quite unique, and ultimately that's what it was about: creating an identity for the club. Because if there was one before, it wasn't very positive."
Potter has taken on Curtis Edwards, a midfielder who started out at Sunderland but drifted as low as England's eighth level, and the former York player Jamie Hopcutt. It was Hopcutt, a 25-year-old who failed to make the grade at York City but impressed Potter (who had known him since he was 13) at a trial in 2012, who made global headlines when he scored a marvellous second goal against Galatasaray. Potter believes his success has shown how English football can plunge players into a "vacuum of nothing," often to the benefit of clubs such as Ostersunds.
"If you're released from English football and you're not physically strong enough for the nonleague system, you can be out of it quite quickly," he said. "Jamie just didn't fit anywhere in the UK, and coming to our level where the physicality perhaps isn't the same, he could survive and develop. He's contributed enormously to what we've done.
"But my view with whoever we recruit is that football is a team game played by human beings. If you pay that no regard, then it's a rocky road, and problems can arise. I think character development, and nurturing the individual as a person, is vital for us."
There is a particular strand of their work that nobody can replicate. When Kindberg returned to the club, he met with Karin Wahlen, whose father, Lasse Landin, is a founding member of Ostersunds FK and remains its general manager. Wahlen believed footballers could be enriched by cultural activity, that their ability to deal with contrasting situations on the pitch could be enhanced by performing in ways less familiar to them. Kindberg took the idea on and developed a strategy of his own.
"I was with a very famous Swedish author soon afterwards, and she said to me: 'Daniel, do you know what the Swedish people fear more than anything in the world? It's to go up there on the stage in front of other people,'" he said. "That stayed in my head, and I came up with the idea of creating a Culture Academy, where we adopt a theme every year, develop it in workshops and then have the performance in autumn. The performance is game day."
Wahlen is now Ostersunds' "culture coach." Nobody, whether player, coach, administrative staff or board member, gets out of the challenges. Together they have written a book, produced an exhibition, created pieces of interpretative art, held concerts and, most famously, put on their own production of Swan Lake at the local theatre. Separately, they have formed active connections with local refugee centres and charities. Two days prior to this visit, they held their latest workshop with Maxida Marak, a hip-hop artist who is schooling them in a project based around the Sami culture of Lapland. Hardly anybody is in their comfort zone here. Can standing up where it counts on stage really help you counter the jeers and whistles at the Ali Sami Yen Stadium?
"We do it to win football games. It connects directly to that," Kindberg said. "People say, 'In that case, every club should do it,' but good luck to them because we only know it works with the context we have here. It's a creative environment where people want to make a stand and do things. We don't do it for fun. How fun do you think it is to dance to Swan Lake in front of 500 people? It's terrible. The players were so afraid. Death was nothing! But after a performance like that, you can't beat the feeling. We've had a lot of footballing success, but after you've battled everything to do a show, it feels deeper. Every year we have a win like that, and it builds so much of our identity."
Nouri says that conquering stage fright "gives you the feeling you can do anything" and has direct benefits where it counts. "We do it to be more brave on the pitch," he said. "And when the results have been the way they have, nobody can argue against it."
There has barely been a kink in Ostersunds' progress the past seven years, but Kindberg is not entirely happy. An eighth-place finish — midtable — and a cup win in their first Allsvenskan season while playing slick, attacking football sound reasonable enough, but Kindberg wanted to win the league and is clear that a Europa League campaign will not be the defining moment in their story.
"Our method is to win every game, and the consequences of that should be that you are top of the table," he said. "I will not be satisfied until we are champions. All results before that are rubbish. If you aim for midtable, that means you've admitted to yourselves that it's OK to lose a football game. It's not."
Kindberg laughs because nobody of sane mind would hold that as a complaint against the job Potter has done. Yet he proceeds to go further and explains, with a seriousness that makes the jaw drop, how Ostersunds can become the best team in Europe.
"We now have a turnover [the amount of money taken by a business in a particular period] of £5.5 million per year," he said. "I've said we will be Swedish champions when we have a turnover of £6.5 million. I've also said that if we have a turnover of £50 million per year, we will win the Champions League. No doubt about it. Nobody else has ever done that, but we will do it, that's for sure. If we maintain that turnover for a period of three years, then we will make it happen: 100 percent.
"It will come through a combination of our being extremely successful, being champions, getting through to the Champions League group stage once or twice and getting some investment into the experiment. We have the model, the thinking and the understanding. That's how small ones can beat the big ones: by being very different and odd."
Kindberg's words sound like pure fantasy, but you are forced to check yourself. It's far from unusual to visit clubs around the world who claim to be doing things differently; it is much less common to see things pan out exactly as promised. Yet Kindberg, who vowed to bring European football to Ostersunds after he became chairman, has seen everything he predicted come true. So why be cynical? What if he is right?
Every step Ostersunds have taken under Kindberg and Potter has felt like one that could hardly be bettered, but here they are. Is there any reason that, coming from the fourth division, Europa League group stage football should be the end point?
On Sept. 28, those remaining seats will have long since been installed at Jamtkraft Arena, and Hertha will be running out onto Ostersunds' artificial pitch. The stadium will be full to its 9,000 capacity — a far cry from the days when, upon Potter's arrival, crowds of fewer than 800 were the norm. The Falkarna supporters group will unfold the latest of its tifosdesigned by longstanding fan Anders Ringfelter, which have become famous in Sweden for their witty but respectful slogans. The atmosphere will be different from anything this part of the world, better known for skiing and other winter sports, has seen before.
Potter and his assistant, the former Hamilton manager Billy Reid, will cajole from the dugout while Kindberg, sitting at the top of the main stand, looks on. He has fielded a number of enquiries for his manager from important English clubs but will not let him go — not yet anyway. Both parties are more than content with one another, and neither has seen any indication that an extraordinary story is about to grind to a halt.
"We can win the Europa League. Absolutely, we can," Kindberg said. "If we couldn't, there's no point competing. You shouldn't hope. You should believe. That's the difference."
The question barely needed asking. Regardless of how far Kindberg, Potter and Ostersunds FK still have to travel, the old concept of "Eljest" suddenly feels decidedly modern.
Type a message…