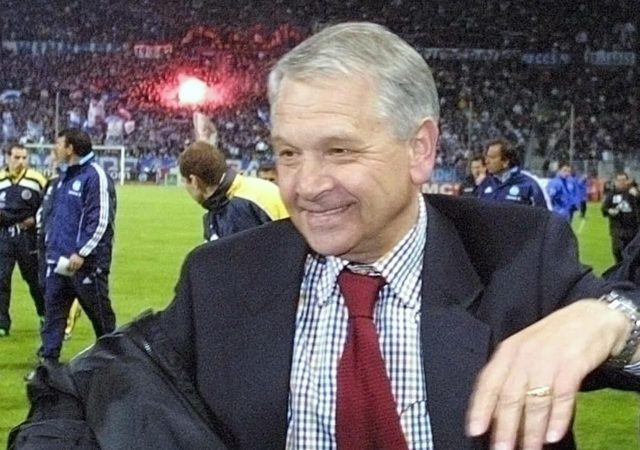 This interview has been posted in remembrance of the late famous Croatian coach Tomislav Ivić ( (30.6.1933. – 24.6.2011.),
In January 2005, Tomislav Ivić gave a lecture in Herceg Novi, Montenegro. "Habit," he said, "is the second nature of man. We need to create habits — not as much physical or technical as mental. And you do that by constant repetition. A change in mentality is needed. You have to prepare your men psychologically for a new logic, so that over time they become eager to embrace it."
This wasn't a psychology congress on classic conditioning or applied behaviour analysis, but a seminar in football coaching. Ivić spoke about the subject of pressing and the sub-heading of his lecture revealed its extraordinary straightforward fashion: it read, quite simply, "How to beat a stronger opponent."
All coaches, especially the good ones, are behaviourists to some extent — such is the nature of their profession. But few of them have ever been so candid about their approach as Tomislav Ivić was. A rare breed in the football culture of the former Yugoslavia, which traditionally harboured an almost predeterministic appreciation of 'natural' talent and lionised individual artistry above all, he was a firm believer in the system. While he never dismissed the importance of natural ability, to him it was merely crude material which meant nothing if not thoroughly processed, refined and given optimal use within a whole. He spoke a lot about "mentality" — but whereas in the Balkans that word usually has a negative, defeatist undertone in anything from politics and economy to popular culture, his interpretation was completely different. To Ivić, mentality was something to be constantly learned, reshaped and altered.
That he succeeded with these ideas in Split, a city so particular that it appears to be in a perpetual uprising against itself, is a true testimony to his greatness. And he did, winning three championships and four cups there while making Hajduk a force to be reckoned with in Europe. After that, nothing was too hard for Ivić. He went on to lift league titles in four other countries (with Ajax, Anderlecht, Panathinaikos and Porto; he also won the Copa del Rey with Atlético Madrid and the Taça de Portugal, the European Super Cup and the Intercontinental Cup with Porto. Sometimes he's also credited with winning the 1992 Ligue 1 title with Olympique de Marseille, but actually he only led them for a few months that season, remaining as an 'advisor' to his good friend Raymond Goethals for the rest of it. The Belgian coach admitted that Ivić helped him prepare tactics for the 1993 Champions League final, which he won against Fabio Capello's Milan).
League titles in five different countries is a feat yet to be matched by any other manager. All this silverware prompted La Gazzetta dello Sport in 2007 to proclaim Ivić the most successful manager in history. The trophy harvest also inspired José Mourinho, one of the three greats who have come closest to matching his feat, winning four — albeit stronger — national competitions (the other two are Ernst Happel and Giovanni Trapattoni). He first met Ivić back in 1988.
"José was a student of sports science and he'd often come to watch my training sessions in Porto," Ivić revealed in an interview with the Croatian daily newspaper Jutarnji list. Six years later, Ivić's second term at the club came to an end as he was replaced by Bobby Robson and Mourinho, his interpreter. Another decade later, the two men met at the Stamford Bridge after Chelsea's 2-1 win over Barcelona in the Champions League. Ivić was there as a pundit for Croatian television and, after the Special One had given him a signed copy of his biography, he showed it to the journalists. The inscription read, in Portuguese, "To the greatest coach of them all — I hope one day to win as much as you."
Many coaches are egomaniacs. Some are tyrants, some father figures and some try to act as players' mates. Tomislav Ivić was none of these things. You could say that he was a bit like Mr Miyagi from The Karate Kid, though: he always insisted on a set of very simple exercises, which were to be painstakingly repeated until the movements become automatic and instinctive. Ivić described some of those in that 2005 lecture and they appeared disappointingly banal — something you might expect to see when watching kids train, but not among fully grown professionals. For example, a small (35mx16m) pitch, with a wall at each end, was used for technique training: a player would run with the ball for a few metres, smash it into the wall, control the rebound, turn around, run with the ball, smash it into the other wall, control… And repeat. And repeat.
It's strange, given what a rationalist he was, how Ivić ascribed an almost mystical quality to those methods. In Herceg Novi, he told the coaches that most of the exercises he used had been devised by "the old Hajduk coach" — he meant Luka Kaliterna, easily the most iconic figure in Yugoslav football. The goalkeeper in the first Hajduk squad, in 1911, and a teacher to generations, Kaliterna is generally considered to be the father of football in Split. He was the first coach to win Hajduk a title, in 1927, and their first local coach after learning his trade from the dozen Czechs who preceded him. Yes, this goes all the way to the early 20th-century Central European football tradition — though, in this case, not to the coffee houses, but to the beer houses of Prague. In one of those, Hajduk was founded by four students from Split, including Kaliterna's brother Fabijan.
Although his idea of playing football was all about modernity, Ivić drew great pride from the fact that he was a part of this historical line. Himself a Kaliterna disciple — like pretty much every football coach that emerged from Split up until the 1970s — he often quoted his master's grains of ancient wisdom, like 'See everything, look at nothing' or 'The play, not the player, scores goals.' Whenever asked about his biggest influences, he'd always put Kaliterna first, then usually Rinus Michels and Hennes Weisweiler.
The players must have been less than enthusiastic about Ivić's methods — just as the Karate Kid Daniel LaRusso initially was when Mr Miyagi made him sweep floors and wax cars. It took them time to realise the value of endlessly repeating simple movements and tasks — but once they did, they became eager to embrace them. Dražen Mužinić, a long-serving Hajduk player in the 1970s, admitted he became so infected by the habits he had learned that he began "catching people in offside traps" when talking to them in the street. "I couldn't help it," he explained. "It was a reflex action for me." When Mužinić was transferred to Norwich City in 1980, he was so useless that Justin Fashanu remarked, "I don't think we got Mužinić. I reckon they sent his milkman instead." Besides not speaking a word of English, the player was immersed in Ivić's logic and found it too hard to function outside it. When Norwich cancelled his contract, he retired aged 29.
At Ajax, where Ivić coached from 1976 to 1978, between his two trophy-laden stints at Hajduk, he was initially met with a player rebellion led by Ruud Krol, who was supposed to be his sweeper and the commander of his defence. Had Ivić not been hand-picked by Rinus Michels himself to succeed him, this might have escalated, but the chairman Jaap van Praag intervened and the squad listened. In his debut season with the club, Ivić won Ajax their first Dutch title in four years — for the first time after the Ştefan Kovács era; for the first time without the likes of Cruyff, Neeskens or Rep. "The older players like Krol had some trouble in the beginning, but they would later praise in particular his training methods," said Pim van Dord, a defender in that team. "What was special about those was how often he'd repeat certain things. In time we started to believe in his approach."
Ivić said that Michels had chosen him as his successor because the way his Hajduk played suited the ideals of Total Football. That may not be entirely so — while he did use the 4-3-3 formation, interchanging positions and intensive pressing, his football was never quite so easy on the eye or as attacking. In part that was down to a lack of extraordinary individuals but Ivić favoured automatism and a great deal of running, so his teams weren't as playful as the Ajax that conquered Europe. His was a more physical game.
"Split of the 1970s was not unlike some place in the north of England," said the Jutarnji list columnist Jurica Pavičić. "It was a city of blue collars and factory chimneys, where a company bus would pick up workers in front of their housing estate built by that same company. Split was experiencing a period of industrial growth and increased urbanisation. Football was its binding tissue, something everyone talked about. I cannot help but think it's no coincidence that Hajduk of that era made their name by playing what people usually call 'industrial' football."
As a young man, Tomislav Ivić worked at the docks and played for RNK Split, the city's second club which — coached by Luka Kaliterna — swept through the lower divisions to reach the Yugoslav top tier in the late 1950s. "They'd let him leave work a bit earlier because he was important for the club, but every day he had to walk for more than 10km — first from home to work, then home, then from home to the ground," Milorad Bibić Mosor, the late journalist and author who was probably RNK's biggest fan, told FourFourTwo Croatia in 2010. So if Ivić used to lead such a physical and industrial life, is it any wonder that it transferred into his coaching philosophy?
He was also often accused of playing defensive football. This probably had something to do with his methodology. "It's much easier to learn how to defend than how to attack," he used to say. "It also takes less time." Once he'd managed to fortify the defence, his teams would grow steadily and become more and more efficient in attack as well. In 1977-78, his Ajax team scored 23 goals more than in the previous season. But for various reasons, including his adventurous nature and in some cases money, he hardly ever stuck around in one place long enough to gain true recognition.
The time spent in Amsterdam influenced Ivić. Looking back, it seems that he learned how to manipulate space more efficiently there and that took his ideas to a new level. "In the second year with Ivić we started to put his counter-pressing approach into practice at a more fluid rate," Pim van Dord remembers. "We started to grow in terms of how he wanted us to play, but he had already indicated to us that he would leave at the end of the season — because of money. He was sad when he left us because he had us playing near to where he felt was the optimum under him."
It could be argued that Ivić returned to Hajduk in 1978 as something of a pressing fundamentalist. He started talking about football in different terms, much to the bewilderment of local journalists. He became fascinated by the (bio)mechanics of team movement: "Pressing is the beating heart of our football," he'd say, describing the team's on-field shape as though it were a live organism, a muscle, explaining its contractions and expansions. His team was made to practise defending with a very shallow formation ("If you looked at it from a plane, the distance between the first and the last player should be about 30m"), from which they would 'organically' expand in transition to attack, following established and oft-repeated patterns.
In the late 1970s, Ivić was a man on a mission: he wanted to bring a European trophy to Split, which was probably the main reason he returned there in the first place. Although Hajduk had been a fearsome team in that decade, real continental success had eluded them — they had beaten Saint-Étienne 4-1, then lost 5-1 in the return leg; won 2-0 against PSV in Split, then lost 3-0 in Eindhoven. The coach wanted to change their mentality and shake off the 'home team' tag. In 1978, he was furious after being eliminated by Arsenal in the second round of the Uefa Cup. The Gunners parked the bus in the first leg and managed to pull off a promising 2-1 defeat, their away goal a long-range effort by Liam Brady. Two weeks later, Willie Young scored the only goal seven minutes from time at Highbury and Arsenal went through on away goals. In December that year, Hajduk's star striker, the 'King of Goals' Slaviša Žungul defected to America. It was a shock for everyone, but urban legend has it that Ivić intentionally sent him on his way because they never saw eye to eye. He replaced him in the team with Zlatko Vujović, an incredibly fast young forward with prodigious stamina.
The following season, Hajduk stormed to the European Cup quarter-finals, in which they faced the great Hamburg side of Keegan, Hrubesch and Magath. Coached by Branko Zebec, who had been Ivić's predecessor in the Hajduk hot seat, it also featured Ivan Buljan, a former Hajduk player and a world-class defender. Ivić had four full months to prepare for the tie (the European break lasted from early November to early March) and became obsessed by it. In later interviews, he confessed exactly how far he took his thinking about this 'project'. For example, an article he read about Rod Laver's psychological preparation for five-set Wimbledon matches gave him an idea of how to prepare his men for the equally exhausting task he was about to give them. He also looked for ideas in other sports, like handball and even horse-racing. People would often see him in the street with one or two of his players, waving his hands frantically like some kind of mad scientist: he wanted to make sure they understood what he was asking of them, so he kept explaining. Over and over again.
This kind of obsessive behaviour remained a part of Ivić's character until his death in 2011. Journalists revealed stories on how he would rearrange chairs in their office to explain the Makélélé role. An acquaintance of mine told me how he was once on the same flight as Ivić: within minutes of introducing himself to the coach, he was presented with diagrams drawn on a piece of paper to explain how England should play if they wanted to have a chance of winning Euro 2004. To him, football tactics increasingly became something like a set of problems and equations which could be solved by proper analysis — something that can and needs to be mended. When, due to his deteriorating health, doctors instructed him to retire from coaching, he was still filling up his notebooks with tactical diagrams and new ideas on a daily basis. Even when he was admitted to hospital and banned from watching football on TV, he still drew his diagrams, straight from his head.
With his immense knowledge, understanding of the game and eye for detail, Ivić was one of the best TV analysts anybody is ever likely to see. But it was never too long before any football-related conversation with him returned to that 1980 Hajduk match against HSV.
In the first leg, Ivic's approach was very cautious, as was the norm for away games those days. Hamburg won 1-0 in an evenly matched game, which was seen as a decent result for Hajduk. Almost everyone in Split believed that the team could turn it around. Two weeks later, 52,000 people at Poljud stadium saw something they would never forget. Hajduk flew all over the pitch: they played one-touch football and swapped positions so quickly that it was hard even for the fans to keep track, let alone Hajduk's opponents. They moved in unison, contracted and expanded, as though all were controlled by some invisible brain or joystick. And they pressed the ball for the full 90 minutes.
This was avant-garde football — but it wasn't to be for Hajduk. Hamburg scored from what were their only two chances, while the player who had been the most reliable for Ivić let him down the most: he gifted Horst Hrubesch a goal after only two minutes and later missed a handful of sitters, including a penalty. That he scored to make it 3-2 four minutes from time was little consolation, by then it was too late and Hajduk were eliminated on away goals as they had been many times before and would be after. That player was Boro Primorac, Ivić's sweeper — the same Primorac who has been Arsène Wenger's assistant for almost 20 years now.
In plain terms, Hajduk were eliminated due to bad luck and human failings that could hardly have been foreseen. There wasn't much more Ivić could have done and that was the hardest thing for him to accept, especially because he was positive that none of the other three semi-finalists — Real Madrid, Ajax and Nottingham Forest — had an answer for the style he had developed. He was so disappointed that he decided to leave the club once again — this time for Anderlecht, where in his first season he brought them their first league title after a seven-year hiatus. As for Hajduk, they never won another Yugoslav title after 1979. In 1984, they reached the Uefa Cup semi-finals and lost to Tottenham — on away goals, of course.
Tomislav Ivić changed jobs many times in the years that followed and racked up so many wins that he even inspired the likes of Mourinho. But the impression is nothing ever meant as much to him as that one night in Split — not even that one-off game when he got to manage the Croatia national team and beat Italy, who were fresh from reaching the final of the 1994 World Cup.
In retrospect, that was the match that made Croatia as footballing nation: only their third competitive game ever (the first two were against Estonia and Lithuania). Their regular manager Miroslav Blažević had been suspended by Uefa, so Ivić took over. In Palermo, he set up a brilliant defensive strategy: Croatia played something like 5-3-1-1, with both Zvonimir Boban and Aljosa Asanović acting as deep-lying playmakers, the hard-running Nikola Jurčević alongside them and Robert Prosinečki as trequartista. Instead of a designated holder, Slaven Bilić and Igor Štimac took turns stepping out of the defence to help close down Roberto Baggio; Davor Šuker pulled wide all the time. The team of Arrigo Sacchi, a coach who had his own ideas about pressing, was given the ball but denied any space in attack. Frustrated, they lost balance and were less able to cope with Croatia's quick counters, so the visitors scored twice before Italy could manage a consolation goal in the dying minutes of the game.
The media at home were bowing to the genius of Ivić, but he didn't seem particularly proud. He set up those tactics against his own doctrine of how football should be played. He merely did what he felt was needed and 'mended' the team for Blažević. Given the time he had at disposal, that was all he could do, because "it's much easier to learn how to defend than how to attack."
He was a captivating speaker and a visionary. Football of the future, he predicted in 2010, a year before his death, "… will use formations consisting of only two lines, each of them including the best technician as specialist — the deeper one as a modified, new-age libero who can provide the best passes and act almost like a quarterback in American football, and the one up front to spearhead the attack not by power, pace or physique, but by creativity and positional intelligence."
But the glory and trophies will belong to those teams who'll be able to play at high tempo throughout the game, achieve automatism and act on instinct in transition, while constantly pressing on the ball very high up field — Ivić said that year when FourFourTwo Croatia spoke to him on the phone, trying to get him to write a column for the magazine (sadly, his health never permitted it, although he was very keen). "But is it possible to maintain that kind of intensity for 90 minutes?" — his rhetorical question was identical to the one in the very climax of that 2005 lecture, and so was his answer: "Yes, it is!
"You know, when Hajduk played Hamburg back in 1980…"
By Aleksandar Holiga – 1st September 2013
Source:https://www.theblizzard.co.uk