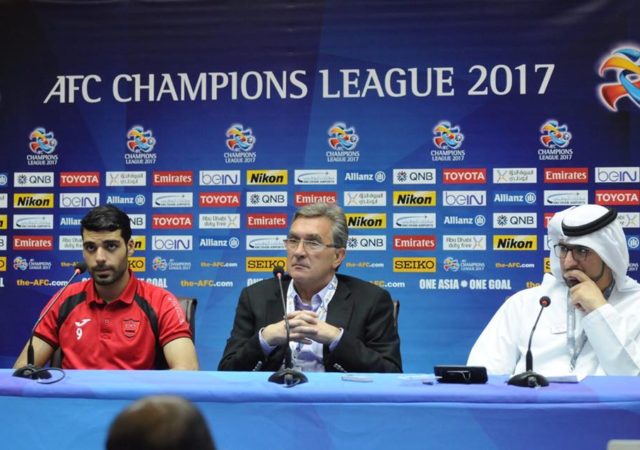 Only few coaches / managers in the world have won the champions title with three different clubs in three different countries. A famous Croatian coach, my friend and former teammate Branko Ivankovic (63) managed to do it. As a coach of NK Dinamo Zagreb, he was Croatian champion in the 2006/7 season, in 2010 was the champion of China with Shandong Luneng Taishan F.C., and the finally he became champion of Iran's with Persopolis F.C. in the season 2016/17. Along with these significants club's successes Branko Ivankovic has also achieved significant success as an assistant and as a head coach of the Croatian and Iranian national teams. As assistant coach, together with then head coach Miroslav Blazevic, with the Croatian national team he won the third place at the World Championships in France in  1998, and as head coach of Iranian national team he won the Asian Cup in 2003 and 2004 with the U-23 team and A representation of Iran. There is one more great bond turned into success between him and  the national team of Iran – Iran qualified to play in the World Cup in Germany in  2006.
Only a few people know that Iran is a nation which is crazy about football. Their derbies are regularly visited by inbetween eighty and one hundred thousand people, while at the 'ordinary' matches there are never less than fifty thousand people. The atmosphere in the Iranian clubs' stadiums can not be comparaed with any other league of the world (Author's note: in Iran, women are forbiden to attend matches). The today's champion Pesrsopolis F.C. has as many as 40 million fans, and it took him nine years to won the title.
Branko Ivankovic (who is in Iran affectionately called "Professor") remains one of the most successful coach in the history of the soccer of Iran. His charisma and cool approach made him quite a popular figure in Iran.
Do not think it is easy to become a champion in Iran or China
Becoming a champion is difficult everywhere, and as far as the quality of football in these countries many would be deceived. Iranian and Chinese clubs are according to their infrastructure (especially China) and investments in players and coaches on the quite same lever as European countries. I will enumerate only a few world-renowned coaches who worked or are stil working in these countries: Loiza Felipe Scolari, Sven-Goran Eriksson, Andre Villas-Boas, Fabio Canavaro, Felix Magath, Arie Haan, Toni Oliveira …
What is the secret of success Croatian coaches?
These are the most common questions that I get asked by my colleagues who can not stop wondering how come a little Croatia, a state born only 25 years ago, managed to turn in the football powerhouse and managed to continously take part in the biggest football competition.
The answer is very simple. In Croatia, a great attention is paid to educating coaches who are the nucleus of football development. They created today famous players like Modric, Kovacic, Mandzukic, Rakitic, Lovren …
If you might be interested in postulates of work of Branko Ivankovic and other well-known Croatian coaches, visit amazon.com and read my book 'The successful coach – The choice is yours Maxi'
If you like this post, please share it on Facebook and Twitter. Thank you!