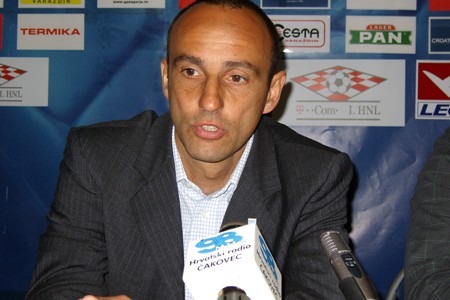 In the north of Croatia, near its capital Zagreb, the small baroque town of Varaždin is located. Beside its magic which is reminiscent of Vienna, Varaždin, a town with fifty thousand inhabitants represents a football coaching phenomenon in the world. There the football career of three top world-famous football coaches was built: Zlatko Dalić, Branko Ivanković, and Dražen Besek. Regardless of their world-famous careers, all three of them with their families still live in Varazdin.
All three coaches first imposed themselves on the football public as players of the local First Croatian league football club Varteks Varazdin. At the end of their playing careers, they dedicated themselves to coaching, and have reached world-renowned heights – bronze medals at the FIFA World Cup France 1998, silver medals at the FIFA World Cup in Russia 2018, two AFC Champions League finals, a quarter of the Cup Winners Cup finals …
Since I am also a resident of the city of Varaždin, we meet often. The other day, while walking, I came across one of them, Drazen Besek. He was forcibly repatriated by the pandemic crisis from the Chinese engagement in Shanghai Shenhua FC. We last saw each other more than a year ago, so I was eager to talk to him. In the absence of having cafes and restaurants open, I invited him for a walk through the sleepy and deserted streets of the city. There were a lot of topics to discuss, from impressions from China, reminiscences of our joint football moments spent in NK Varteks (today Varaždin), to a talk about the importance of communication in the coaching business.
Before revealing to you some details of our conversation, I'll take this opportunity to introduce Dražen Besek's football career. His football career began in  NK Varteks in 1975 at the age of twelve. He played 174 official matches for the first team and scored 16 goals. Beside  Varteks, he also played for NK Olimpija (Slovenia), NK Dinamo Zagreb, Vaullaurissa F.C. (France), FC Ikastu (today FC Midtjylland, Denmark) and FC Casino Salzburg (today Red Bull Salzburg, Austria). Besek was the first player in the history of our local First league  club who, after his playing career ended, decided to find his future in the coaching profession. He became a coach in 1998 and already in the first year of being a head coach, his NK Varteks team has welcomed spring in Europe, in the UEFA Cup Winners Cup.
During the walk, we happily remembered those wonderful days of pride and glory when our little "Varteks" overcame the favored Dutch Heerenveen after a crazy 4-2 turnaround. It was a feast for the eyes – David from Varaždin, with a budget that was thirty times smaller than the great Goliath, advanced to the quarterfinals of the then prestigious UEFA Cup Winners' Cup, marking the new history of Croatian football.
Although this historical success with his favorite club he originated from marked him for good, Besek happily remembered another success dear to him in European competitions. While leading in 2017 the Birkirkara amateur team F.C. from Malta, Besek eliminated Široki from BiH in the first qualifying round of the UEFA Cup, and then made a sensational undertaking in the second qualifying round by defeating the prestigious Scottish Hearts F.C. Only in the third qualifying round his Birkirkara was stopped by the Russian F.C. Krasnodar.
This result of Maltese amateurs under Besek's leadership was an ultra-surprise in European football circles, and even the Maltese president, who was not a football fan, recognized the importance of this success for little Malta. So she hosted a reception for Birkirkara's coaching staff, led by coach Besek.
Drazen Besek's last football destination was the Chinese club Shanghai Shenhua. I was interested in how come that most of the best Croatian football coaches seek for their future in the Asian market. Why are Croatian coaches having a hard time opening the doors of clubs in the top five?
"The demanding football market is dominated by coaches and players of European  and worldwide football superpowers. Small Croatia, despite its football quality and position on the world ranking among the best football teams, can hardly impose itself without intensifying marketing activities, ie without investing in the promotion of its football values. It is indisputable that the greatest Croatian football value is knowledge, but unfortunately, that is no longer enough. Therefore the Croatian coaches flooded the Asian continent. They are present in Iran, Saudi Arabia, UAE, Oman, China. The latter, the Chinese have recently significantly reduced payments in football. Currently, a player can earn a maximum of three million euros a year and coaches a little less. The total budgets of the clubs are limited, so the clubs became careful in their investments. This opened a place for Croatian coaches because coaches from West European countries and South America have become too expensive. Unlike them, Croatian coaches are not branded, and at the same time they do not lag behind them quality- wise, which the Chinese know very well. The same is happening in oil-rich Arab countries. For rich sheikhs, the best ratio of quality and pricecan be found in Croatian coaches. "
It was getting colder outside. In front of the door of Besek's house, our carefree and above all interesting January walk was interrupted by the ringing of a mobile phone. Before answering, Besek whispered softly to me: "I'm sorry, I have to answer, my agent is calling." I didn't want to be rude, so I waved my hand and continued on.
Walking towards my house, I couldn't stop thinking about Besek. If I would be deciding in the club represented by the agent who called him, I wouldn't hesitate for a second whether to hire Besek?
Why? Because he is experienced, brave and determined in his football deliberation. Because his teams play likeable football, because he is characterful and fair, and that is what sets him apart from the mass of other good coaches. I have full confidence in him, he has proven himself in Croatia and abroad and he is in his best coaching years.